Best Eye-catchy locations for Pre-wedding Shoot in India in 2022!
Since you only get married once, why not make it special? Pre wedding photoshoots have become a part of every wedding planning, the new sleek trend in the market, and the thing on every soon-to-be married couple's wish list.
A pre-wedding photography is a must-do for any couple who wants to capture those happy, exciting moments before they tie the knot and begin on a new journey. While the current unrest may have hindered your desire of having a dreamy overseas photoshoot, we're here to remind you that all is not gone! Whether you want to photograph snow-capped mountains or blue oceans, India has a myriad of gorgeous pre-wedding photoshoot venues to choose from.

Jaisalmer : Desert Safari
Udaipur: The Oberoi Udaivilas
Jaipur: Taj Rambagh Palace
Goa: Park Hyatt Goa Resort and Spa
Agra: Taj Mahal
Delhi: Humayun's Tomb
Rishikesh: Lakshman Jhula
Pondicherry: French Quarter
Jammu And Kashmir: Gulmarg
Kerala: Alappuzha or Alleppey
Himachal Pradesh: Manali – Shimla


These gorgeous pre-wedding photoshoot venues in India, ranging from snowy peaks to magnificent castles, will save you time while guaranteeing you make a statement online! To save you the time and effort of compiling a checklist, we've put together a list of breath-taking pre-wedding photoshoot locations which you can't get enough of.


Jaisalmer
If you prefer things to be a little distinct and unique, then this would be the city for you. Where everybody is going to Udaipur and Jaipur, go to Jaisalmer, Rajasthan's finest. Jaisalmer is rich in music, art, history, and poetry, in addition to its forts and stone walls. From royal poker to traditional dance moves with the locals, a magnificent sunset from the top of the fort, and shopping at the local market, the city has it all. Most significantly, the city has a way of eliciting the couple's eternal love in the most beautiful manner conceivable!


Goa
Goan Beaches exude distinct bohemian vibes and is a 'sun and sand' loving couple's dream come true! This city prepares the way for romance with its sheer beauty, from exhilarating water sports to taking a leisurely stroll along the shore.


Udaipur
For all those who enjoy stories and fairy tales, Udaipur, the city of lakes, will deliver the best of your story. Udaipur adds just the proper bit of romance and colour to your otherwise oh-so-romantic love story with its spectacular colours, sunsets, lakes, and magnificent palaces.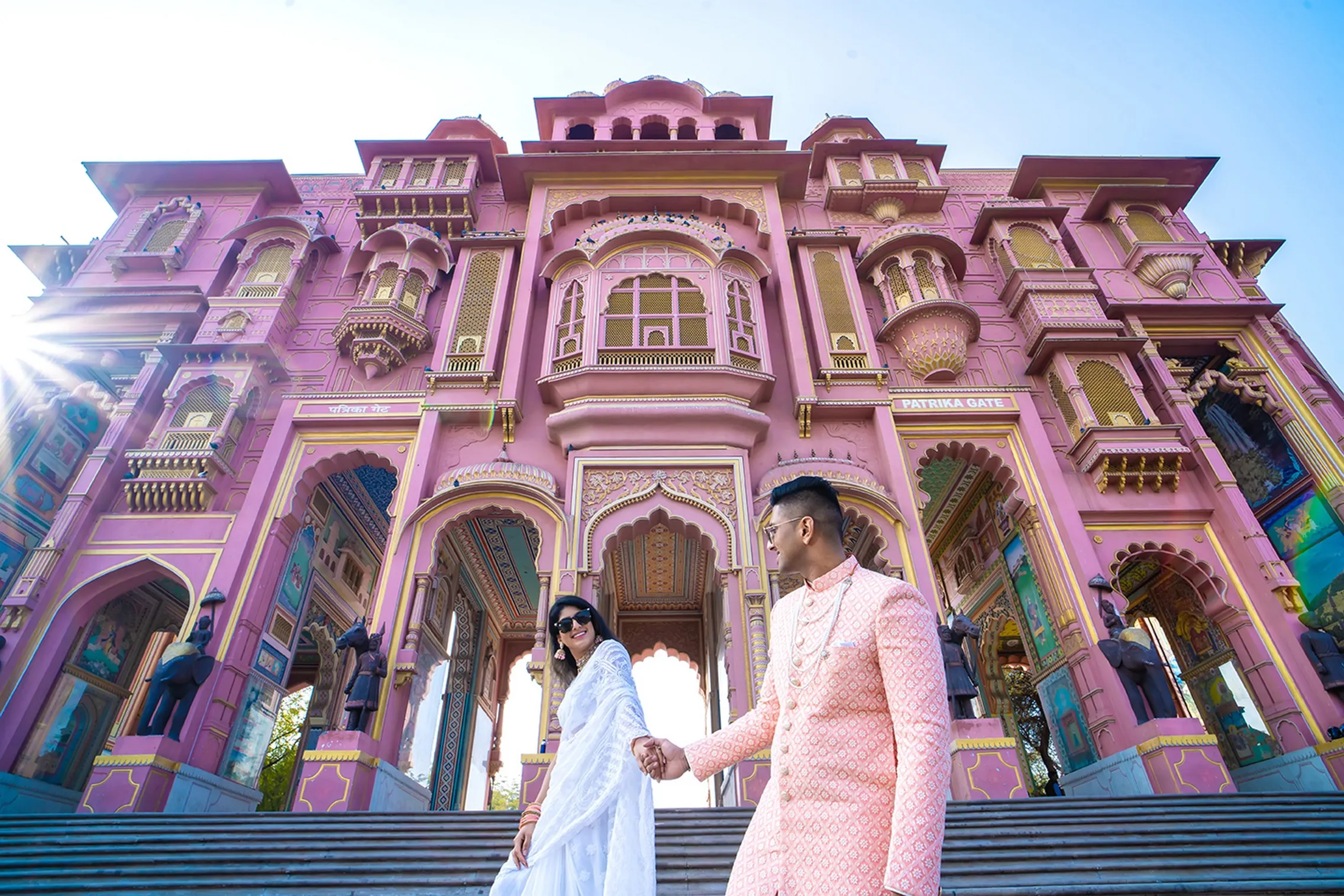 Jaipur
What better place to have your pre-wedding shoot than in Jaipur for those who appreciate a mix of modern and traditional vibes?
Jaipur is a city that evokes classic architecture and legendary royal love stories. It also provides a city-like atmosphere with its modern cafes and bars. The romance is drawn out by the lofty mystical forts, bright stone walls, and pink skies. Furthermore, they transform your pre-wedding photography in Rajasthan into a movie.


Taj Mahal, Agra
The Taj Mahal, a monument whose name is intertwined with romance, stimulates a wide range of emotions and provides plenty of space for love to flourish inside its gorgeous, expansive grounds. This historic landmark has plenty of settings for couples to get the perfect image, from a romantic boat trip on the Yamuna River to exploring its countless arches.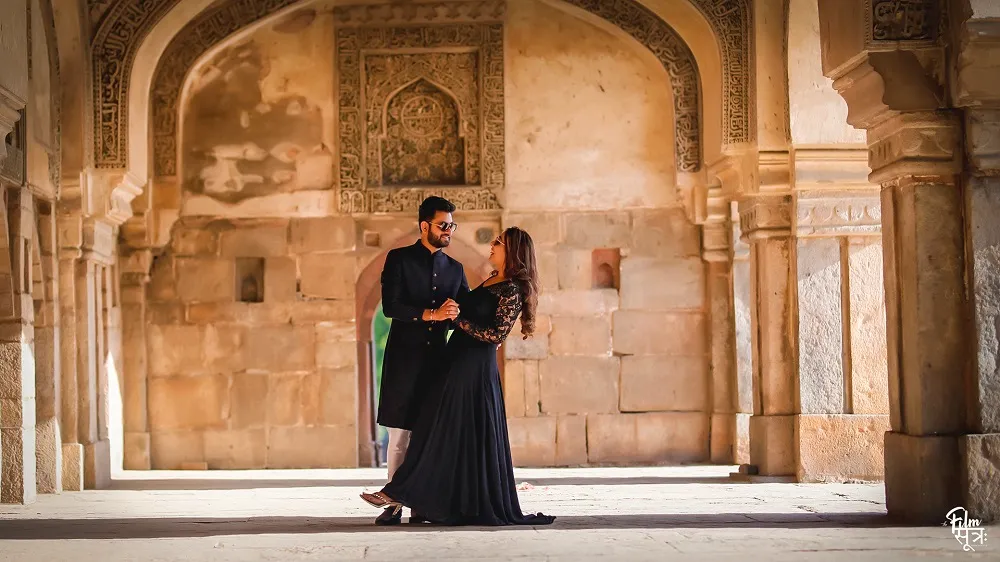 Humayun's Tomb, Delhi
Humayun's Tomb, another Mughal treasure, is among the top locations in India for people who want to photograph in natural settings. Your shot will have a decent amount of historical charm thanks to the stunning backdrop of historical structures. Pre-wedding photoshoots will be marked by a sense of eternal history, making them equally unique and timeless.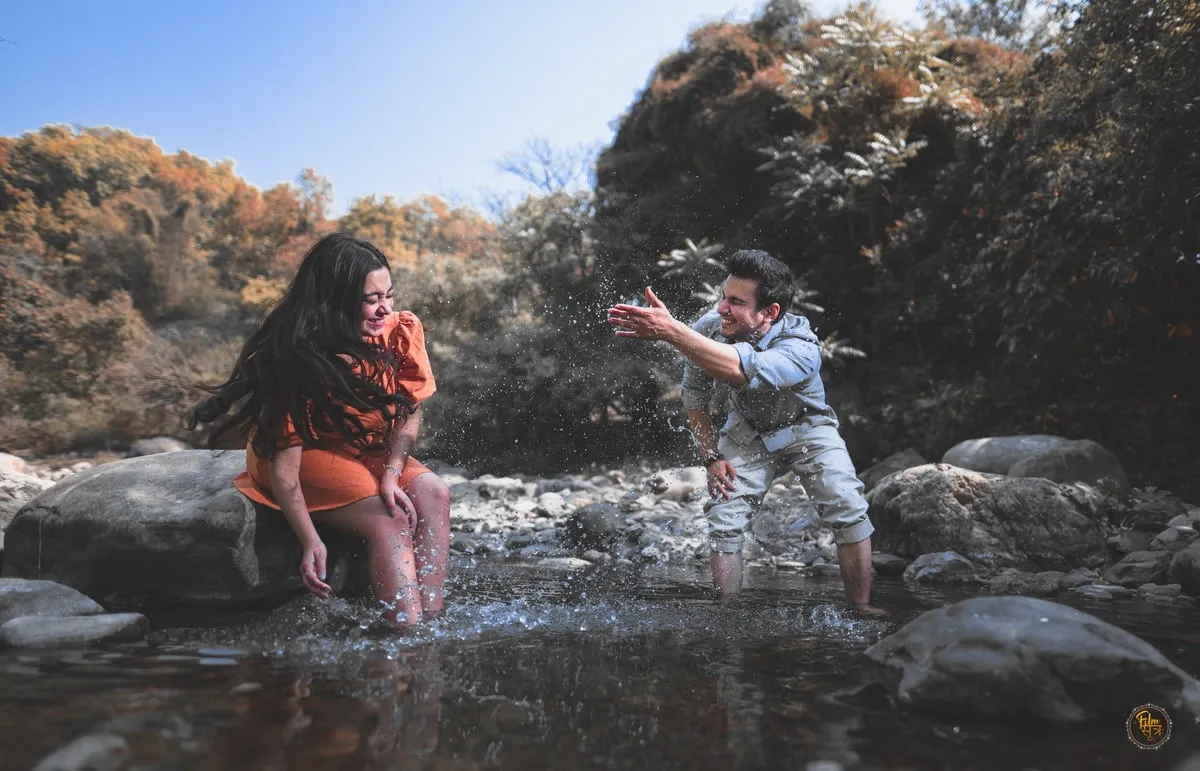 Rishikesh, Uttarakhand
Rishikesh is indeed one of the rare places in India where you can find romance in the natural world. Pre-nuptial photography with the Ganges streaming by your side is just something you won't find anywhere else. Rishikesh is a photographer's dream, and your pre-wedding shoot there would be an unforgettable experience. Rishikesh, one of Uttarakhand's best hill stations, is the ideal location for a pre-wedding shoot for photographer couples. The richness of natural picturesque beauty will also provide you with several Photoshoot Ideas.


French Colonies, Pondicherry
If you've had enough of Goa and would like to avoid the crowds of a popular town, Pondicherry is the place to go. Puducherry, known for its vibrant streets, beaches, gorgeous motorways, and exciting nightlife, would be an ideal place for a photographic sanctuary for party-loving couples. The vibrant metropolis combined with the historical beauty would provide for some spectacular photo backdrops.

Kashmir
The snow-clad Kashmir valley with the beautiful Himalayan landscape would be unlike anything else seen in pre-marriage photoshoots. Gulmarg is one of the best places in India to take romantic pre-marriage photos.
Srinagar is a wonderful location for premarital photoshoots and prewedding activities due to its abundance of gorgeous sites and mesmerising natural beauty. Imagine sailing around Dal Lake on a houseboat (Shikara) while the sun is setting in the background.


Manali, Himachal Pradesh
Manali's snowy hills and stunning panoramas have long been a favourite of Indian and international travellers, allowing your love to blossom. The vista of snow-capped peaks and glaciers from Solang valley is breathtaking. This location will provide you and your companion with a pleasant photo shoot. If you go for your pre-wedding shoot between December and March, everything will be blanketed in white cottony snow. This location is unrivalled for capturing those warm, memorable moments.


Port Blair, Andaman Islands
The Andaman Islands offer the greatest venue for an excellent photography, with crystal clear water, gorgeous beach beauty, and magnificent beautiful scenery. None of us can resist the allure of its dreamlike environment, which features silky white beaches and blue waters. This union territory of India is a honeymoon and couple-friendly place that newlyweds visit before and after their wedding to share their love and enhance their bond even more.


Kerala
Kerala, God's own land, has some of the most beautiful locations for pre-wedding photographs. The images of you and your significant other drifting on a houseboat in the backwaters of Kumarakom during the setting sun will remain gorgeous forever. Kumarakom also has a number of lake resorts where you can shoot from the privacy of your own room. Kumarakom combines luxury and aesthetic beauty, making it one of the top pre-wedding photoshoot locations.


These ten romantic locations will ensure that your pre-wedding shoot is a beautiful experience. So, take a look around and let us know if we missed anything. Leave a comment below about your experience. If you or anyone you know is about to get married, you know who the best wedding photographer and the best cinematographer is in Delhi NCR. Reach to their team at www.thefilmsutra.com or drop them an email at help@thefilmsutra.com